Gladys (Glady) Gertrude Schier passed away peacefully, surrounded by family and caregivers on January 16, 2021 at the age of 107. She is survived by her granddaughter, Tiffany Schier.
Glady was married for 50 years to William Harley Schier (Harley) and had one son, Douglas Harley Schier – both deceased. She grew up in Dunnville, and lived in Wainfleet for many years. In the 1970's, she and Harley moved to Fonthill and continued to spend time at their cottage near Huntsville. Her last years were at Lakeside Long Term Care in Toronto, close to Tiffany.
She played multiple instruments and continued to play the organ into her 90's. She was a fantastic baker, loved to garden and look after her house plants.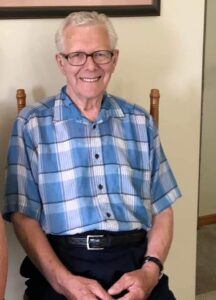 July 14, 1934 – January 5, 2022
On Wednesday, January 5, 2022 the Lord called home His child, Jan Petter at the age of 87. As a loving husband, father and Opa, he was known for his sense of humour, his hard work and his love for the Lord. He was always comforted by the words of Psalm 23 and lived his life by faith.
Beloved husband of Grietje Petter-Hooikammer for 64 years.
Loving father of; Jan and MaryJane, Klaasje and Martin, Hanneke and Rick, Johanna and Andy, Johan and Henrietta, Len, and Theo and Karolynne.
Opa to 25 grandchildren and 10 great-grandchildren.
Predeceased by great-granddaugther Claire Braun.
Visitation will be held on Sunday January 9, 2022 from 6-9pm.
Funeral service will be held on January 11, 2022 at 11 am. Live Stream will be available via the church website https://www.attercliffechurch.com/
Both will take place at Attercliffe Canadian Reformed Church, 85948 Canborough Rd in Attercliffe.
Reverend Rodney Vermeulen officiating