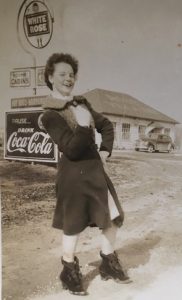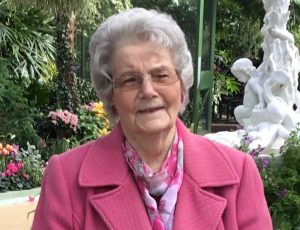 14 Apr 1927 – 3 November 2022
Margaret Johnston (Kyle) Summersides was born in Scotland and immigrated with her family to Port Robinson where she grew up surrounded by three brothers, four sisters and loving parents Margaret and Alec.  She left home at a young age to work in the Welland hospital in order to help support her family.  She would soon meet her life mate, Jim, and go on to have a family of her own.
Margaret was a brilliant crafter and hobbyist- able to take on any task and complete it with excellence.  Sewing, gardening, knitting, quilting, cooking, decorating – were all part of her talented repertoire.  She was always keen to share her skills with family and community.
Family was an important part of Margaret's life.  She was always happiest when surrounded by immediate family, siblings, nieces, nephews and good friends.  The door was always open for family and friends and there was always room at her table for one more.
Margaret is survived by three siblings, Elizabeth (often mistaken as her twin), Janet and Joe – all of whom she loved dearly. Many nieces and nephews will remember her fondly for the memories she helped them to create either in her home or at the cottage.  Much laughter was enjoyed by all.  Margaret was a kind and giving soul who never spoke ill of another.
Dearly loved, Margaret will be missed by daughter Sherry & son-in-law Jorg, son Rex and daughter-in-law Jacqueline and cherished grandsons Ivor and John.
Our family would like to take the opportunity to thank the excellent care and kindness shown by the St Catharines General Hospital staff, the wonderful support and assistance provided by Rose Hill Lane PSW's and the compassionate care and support of the entire Lookout Staff.  Your collective thoughtfulness has eased mom's transition to a peaceful rest.
In lieu of flowers, the family invites you to make a donation to the Pelham Community Church.
A memorial service is planned for Wednesday, 21 December, 2022 at 1:30 pm to be held at the Pelham Community Church, 461 Canboro Rd, Fenwick.  An interment service at Pleasantview Cemetery, 2250 Hwy 20, Fonthill, will be held immediately following for both Margaret and Jim Summersides.  A short reception will follow at the Fonthill Legion 613, 141 Hwy 20, Fonthill.
It is our plan to have the service live-streamed for those unable to attend in-person.  Please visit https://www.pelham.cc/live-stream/ to join us on-line. Funeral arrangements have been entrusted to Lampman Funeral Home. www.lampmanfuneralhome.com