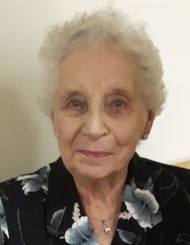 It is with extreme sadness that our family announces the passing of Mrs. Betty Doreen Kilts (Swayze) on Saturday, October 8th 2022.  She was peacefully called home to be with her Lord and Saviour in her 91st year. Born on March 10th, 1932, in Wainfleet, daughter of Richard and Dorothy Swayze, she is predeceased by her husband of 50 years, Donald Marvin Kilts (2001) and her two sons George (2007) and Mark (2022).
Don and Betty lived their lives in Wellandport and enjoyed the country life. A devout Christian and volunteer, she was always on the go, spreading God's love to others and helping out any way she could.  She enjoyed being outdoors, walks, gardening, lunches with her friends and family, dogs (and cats) and her horses Velvet and Sugarfoot.  She loved being surrounded by her family as it grew in numbers and enjoyed get togethers for birthdays, special occasions and summer picnics.
She is survived by her sister Shirley Frausel, and her children Bonnie Visser (Bill), Wayne (Wendy), daughter in law Cathie, Bruce (Elaine), Dale (Larae) and Melanie. 16 Grandchildren, 33 Great Grandchildren and 2 Great, Great Grandchildren!
Betty was loved by many and impacted so many lives during her journey here on earth by her kindness and caring and love for others. If you knew Betty, you would smile at your memories of her.
For those who wish, memorial donations to Open Arms Missions in Welland would be greatly appreciated. Visitation will be held Thursday, October 13, 2022 from 6-8 pm at Lampman Funeral Home, 724 Canboro Road, Fenwick and a Funeral Service at 10 a.m on Friday October 14th.  Interment following the service at Hillside Cemetery, Canboro Road, Fenwick. Funeral arrangements have been entrusted to Lampman Funeral Home. www.lampmanfuneralhome.com