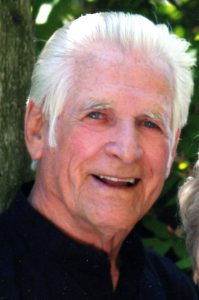 On Dec. 10th in Niagara Falls, Gord quietly passed away at the age of 95. He was a loving and devoted husband to Ruth (Aylett) for over 69 years. Dad will be greatly missed by his children, Wendy Cuiper (Rick), Kim Earle (Harvey), Terry Portelance (Bob Braun), Darren (Cheryle) and Dana Hart (Kelly).  He was a loving Papa to many grandchildren and great grandchildren and will be fondly remembered by his many nieces and nephews. Born in Toronto to Alfreda and Samuel Jones, he is survived by his brother Donald and sister Dorothy (Fullerton), predeceased by his brother Leslie.
Dad proudly served on the York Fire Department for over 30 years.  He will be remembered for his love of northern Ontario, all things horses but most especially for his love of family.  He had a wonderful sense of humour and often enjoyed telling many stories from days gone by.
The family would like to extend our sincere appreciation and thanks to all the dedicated staff of Portal Village in Port Colborne for their care and compassion.
Respecting Dad's wishes, cremation has taken place.  There will be no visitation or funeral. Donations to the charity of one's choice would be greatly appreciated. Funeral arrangements have been entrusted to Lampman Funeral Home.