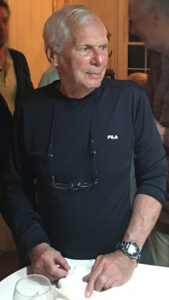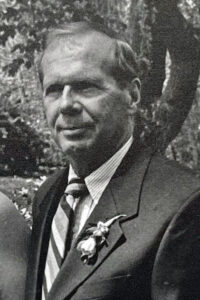 Wayne Russel Purchase of Fenwick passed away peacefully at 80 years old on March 2, 2022. Born in Woodstock, Wayne was the second child of the late Elaine and Jack Purchase. He is survived by his caring wife Irma, his two daughters, Michelle (Dan) and Tanya (Noel) and grandchildren Violet and Alex. Loving brother to Barbara Pierce and Bryne (Lynn). Wayne is survived by his large extended family of in-laws, cousins, nieces and nephews.

Wayne worked hard and managed to put himself through university. He began at Sir George Williams (now Concordia) in philosophy, then transferred to Waterloo Lutheran (now Laurier) and graduated with a Geography major. He attended teachers' college at Althouse (Western) and went on to teach at South Lincoln (in Smithville) and Laura Secord (St. Catharines) Secondary Schools.  He loved teaching courses in Ancient History, Phys Ed., and coaching basketball.

Wayne was a gifted athlete with relentless determination, undeterred by physical pain. He was an avid runner and tennis player. He never failed his daily workout routines at White Oaks or at the YMCA in Welland.  He will be fondly remembered by his mantra "no pain, no gain".  Wayne, like his mother, was an early riser and enjoyed long sunrise walks on the beach in HHI with his dogs.  He was a very private person who loved animals, beer, gardening, watching sports (especially NCAA March Madness), action movies, and basking in the sun.

We are forever grateful to the staff at Angel's Retirement Home for taking such fabulous care of Wayne over the past 20 months.  Pandemic restrictions made it very difficult to visit, and their kindness was immeasurable. We also thank Dr. Arvinte for her compassionate care.

In honour of Wayne's wishes cremation has taken place. A private interment and celebration of life will occur at a later date. For those wishing to express sympathy, a donation can be made in his name to The Michael J. Fox Foundation for Parkinson's Research or a charity of your choice. Funeral arrangements have been entrusted to Lampman Funeral Home.
https://www.michaeljfox.org/
********************************
Memories of Wayne from Bryne Purchase:

In athletics, Wayne was both a fierce and fearless competitor. He would never give up.
Wayne was living proof of those memorable words from Mark Twain, "It's not the size of the dog in the fight but the size of the fight in the dog" that matters. Wayne expected no quarter and gave none either.
He was a small man playing big men's games. In high school basketball he was a point guard and could dribble, shoot, and drive the basket better than most. In football he played quarterback and halfback. After one particularly brutal contest, Wayne was down on all fours on the football field looking for a couple of teeth that had been knocked out.
He rarely hit a tennis ball that didn't have enough speed and top spin on it to rip the racquet out of an unprepared opponent's hands. Playing the net against him had its own special terrors. Perhaps Wayne's greatest accomplishment in sports was that he always had the respect of his teammates. He earned it the hard way.
As his younger brother I owe Wayne a debt of gratitude because he paved the way for me to get ready acceptance by team coaches. He did, however, set an impossibly high bar in terms of their expectations of true competitive grit and commitment to winning.
Wayne and I grew up fighting with each other and playing against each other and we continued that way throughout his life. Yet I loved Wayne just because he was my brother. But for many years he was also a great friend and trusted confidant.
We loved to drink beer, take long walks together, discuss philosophy and political economy and always to reminisce about the olden days. So far as I remember, Wayne and I shared two potentially contradictory views. The first is that life is filled with unpredictable chance. Things can go wildly right or wildly wrong. Whichever way it goes, it's just random luck, good or bad. The other view we shared, however, was that you make your life – good or bad. No excuses. No matter what happens, it's not someone else's fault. So, "suck it up, Buttercup" was the kind of philosophical advice we were likely to give others.
When I think of Wayne, those are the years and those are the things that I choose to remember best.