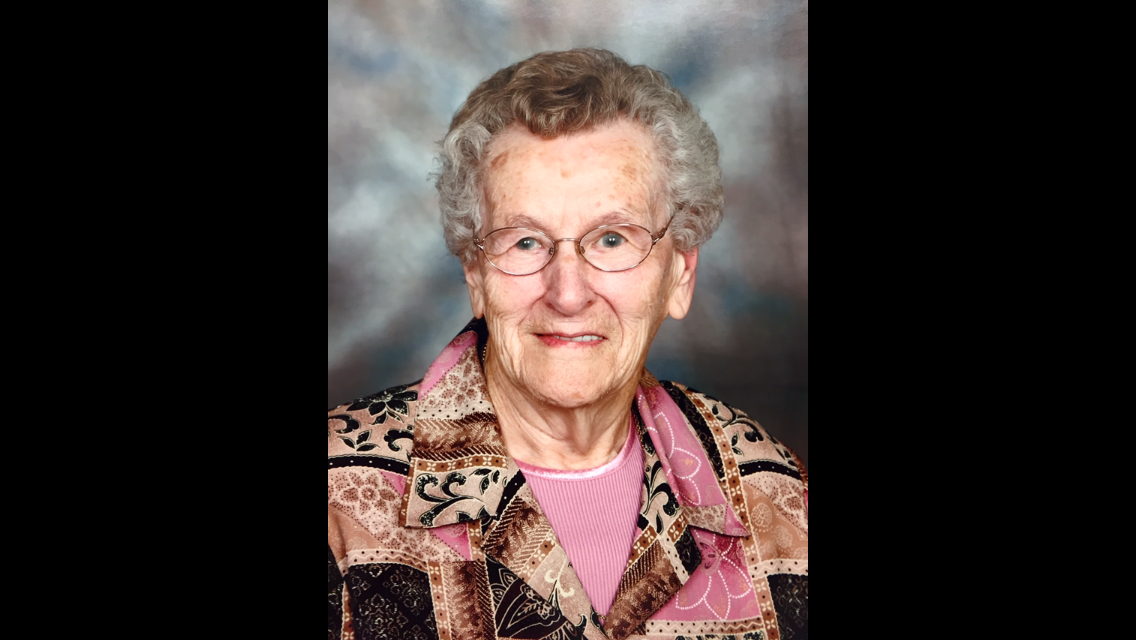 ELLIOTT, Ruby (Angle) nee Bea -Dec. 26,1917 – Aug. 8, 2016
We wish to announce the peaceful passing of our mother, grandmother, great-grandmother, great-great-grandmother, aunt, cousin, friend in her 99th year at Lookout Ridge on Monday, August 8, 2016.
Ruby was predeceased by husbands, David Angle (1974) and Edward (Ted) Elliott (1999). Survived by Nancy (late Keith Burnison) and Harry Vanderzanden, Anne (late Gene) Freeman, Graham and Marion Angle, Janice and Jim Aulph, Ruth (late Ed) Woodhouse and Evelyn (late Don) Alexander. Missing their grandmother are Lynn (Brian) Hilberdink, Gregory (Sue) Burnison, Lisa (Scott) Cullen, Heath (Laurie) Angle, Beth Angle (Rob Kurcz), Joel Aulph (Brenda Bradley), Jessica (Sean) Stewart, David (Theresa) Woodhouse, Jim (Shelley) Woodhouse, Paul (Laurel) Woodhouse, George (Lori) Elliott, and April Elliott. Proud great-grandmother (gi-gi) to Charlie and Russell Hilberdink, Wyatt and Nicholas Burnison, Brittany (Ryan) and Mara Cullen, Liam and Adam Aulph, William Bradley, Hayden and Mason Stewart, Ryan (Meghan) Woodhouse, Andrew (Kayla) Woodhouse, Dawn (James) Manuel, Tom Woodhouse, Bryan Woodhouse, Kyle (Lisa) Woodhouse, Alysa (Jamie) Woodhouse and 6 great-great-grandchildren – Logan, Peyton, Pyper, and Sailor Woodhouse and Madison and Lucas Manuel.
Her parents Peter Judson and May (Cross) Bea, as well as her sister Helen (Frank) Cooney, and brothers Russel (Mary) Bea and Raymond (Margaret) Bea predeceased her. She was Aunt Ruby to many nieces and nephews and their children.
Ruby's life was spent locally between home and church. She was active in the McDonald Circle, Willing Workers, Board of Managers, choir, bazaar, quilting and CGIT at North Pelham Presbyterian Church. At home her table could always hold one more. Spare time produced many afghans, mittens, toques, and quilts for family and charity. She often wished she had kept track of the Linus blankets and charity quilts which she made up to a year ago.
The family will receive friends at LAMPMAN FUNERAL HOME, 724 Canboro Road, Fenwick, on Thursday, August 11, 2016 from 2-4 and 7-9 pm. A celebration of life will be held from the North Pelham Presbyterian Church, 602 Metler Road, North Pelham on Friday, August 12, 2016 at 11 am.
In lieu of flowers, the family would appreciate donations to Hospice Niagara, North Pelham Presbyterian Church or charity of choice.