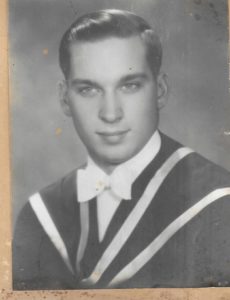 Robert (Bob) Orrin Carson of Fonthill, Ontario, passed peacefully from this earth on January 21, 2019, at the age of 89.
Devoted husband to his wife Rosemary for more than 65 years.  Beloved by his sons and daughters-in-law: Rob (Barbara), John (Paula), Tom (Lynda) and Orrin. "Papa" will be deeply missed by his 3 grandchildren Rebecca, Rachel and Tommy.  Predeceased by his elder sister Mary Sampson and younger sister Margaret Stephen. Survived by his youngest sister Diane Casson and his brother-in-law Jack Evans (Sheryl).
Bob graduated third in his class from Queen's University, Kingston in 1951 with a Bachelor of Science in Metallurgical Engineering and obtained his Master of Science from Queen's in 1952. He began his career in Metallurgy at Orenda Engines Ltd. in Downsview shortly after graduation and was then recruited by Bethlehem Steel in PA, USA in the late 1950's. He returned to Canada and finished off his career with 25 years at Atlas Steel in Welland, being an integral part of their R&D department. Bob lived in Fonthill for the majority of his life, and many people knew him as a quiet man with a big heart. His friends knew him as a "stand-up  guy".  Rest in peace, Bob, Dad, Papa.
A private interment will take place in Kingston, Ontario with a celebration of life planned for a future date. If you would like to honour Bob's life please, in lieu of flowers, give blood, donate to the Canadian Cancer Society or the charity of your choice.