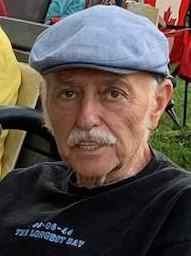 Scrannage "Scranny" on Friday, April 28, 2023 in his 72nd year from the town of Fort Erie.
Paul was born in Welland on May 16, 1951. Loving spouse of Lucille Brewster and family: Brad Brewster and Grandchildren Alex and Halle.  Survived by sister Linda Dowsett (Len) of Fort Erie, Ontario.  Predeceased by his parents Joan (White) and Herbert. Paul will be greatly missed by all his fur babies, including KC, Honey Bear and Maggie.
He was a dedicated employee of the Canada Border Services Agency for over 30 years, retiring on June 4, 2022.  A very proud, devoted and active member of Alcoholics Anonymous for over three decades, Paul provided great support and guidance to a multitude of people.
A true patriot, Paul, enjoyed attending Remembrance Day Ceremonies in Ottawa and collecting a variety of World War books, movies and other trinkets.
He was a member of the Jaycees and served as President for some time.
Paul enjoyed reading books, watching war movies, and was notorious for his shopping "deals".  Of course, he was quick to start up a conversation with anyone and was happy to share a story, or ten.
 Visitation will take place on Thursday May 4, 2023 at 10am at St. Paul's Anglican Church, 32 Idylewylde St., Fort Erie, Ontario.  A service and interment will follow at 11am.
In lieu of flowers, donations can be made to any SPCA in Paul's name. Paul is in the care of Lampman Funeral Home, Fenwick, Ontario.