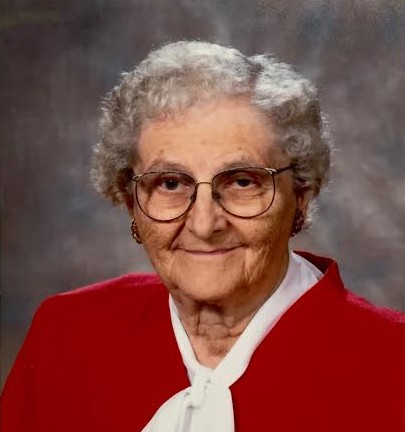 JOHNSTON, Aleda Ruth Matilda (Ratcliffe)
June 13, 1925 – January 17, 2015
It is with saddened hearts that Aleda's family
announce her passing on Saturday, January 17th after
a long battle with Alzheimer's. Aleda was in her 90th
year and is survived by 5 Children: Glen (Wil) of
Welland; Sharon (Terry Silcox) of Winnipeg, MB;
Barry (Deb) of Port Colborne; Tom of Welland; and
Sandra (Gavin Jung) of Calgary, AB; 10
Grandchildren: Melissa (Derek Kirkpatrick) of
Welland; Jeff (Laura) of Mebane, NC; Jeremy (Laurie)
of Hamilton; Jeremy (Megan), Steven (Melissa), and
Nathan all of Winnipeg, MB; Jory (Adam Martin) of
Welland; Amanda (Robert Flintoft) of Wainfleet;
Leslie (fiancé, Jeremy Slak) of St. Catharines; and
Sierra of Calgary, AB; and 12 Great Grandchildren:
Avonlea, Jack, and McKenna of Mebane, NC; Joseph,
Nate, Katie and Abby of Hamilton; Emily of
Winnipeg, MB; William of Welland; Russell, George
and Victor of Wainfleet. Aleda is also survived by her
sister Kaye Thompson of Markdale, ON; brothers-in-
law: Murray (Jeannie) of Niagara Falls, and Larry
(Sandra) of Toronto and sisters-in-law Bernice (Ed
Taras) of Whitby and Linda Johnston of St.
Catharines. Aleda was predeceased by her husband
Russell (April 2014), her parents William and Della
Ratcliffe, her brother Mac and several brothers- and
sisters-in-law.
Aleda was born in Vandeleur, near Markdale, ON
where there are still many nieces and nephews and
their families. Aleda was involved with the Ladies
group and kitchen committee at Rosedale Baptist
Church for many years. The family would like to
thank the staff of Rapelje Lodge for their care and for
keeping her comfortable even up to her last hours.
Aleda was a caring wife, mother, grandmother, and
great-grandmother with a kind heart, loving nature
and generous spirit. She will be fondly remembered
and missed by all those who knew her.
Cremation has taken place as arranged by
LAMPMAN FUNERAL HOME, 724 Canboro Road,
Fenwick, ON L0S 1C0.
A Celebration of Life and Memorial service for Aleda
will be held in the late spring followed by a private
interment at Hillside Cemetery in Ridgeville.
In lieu of flowers, donations may be made to the
Alzheimer Society of Canada at www.alzheimer.ca
or The Welland Eastdale Alumni Association (for the
students of Eastdale High School) at
www.eastdalealumni.com.