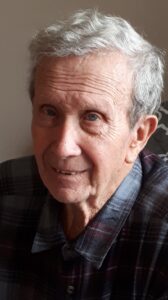 It is with saddened hearts that we announce the passing of our father, John (Jack) Leadley on May 11, 2021 at the age of 84. Dad is survived by his daughters Susan (Russ), Tammy (Don) and his sister Audrey Chambers, sisters-in-law Sharon Culig, Joan Windatt and Paula Leadley and brothers-in-law Doug McCauley and John Bell. He is predeceased by his wife Winnie (2012), son in law Rick Begin (2014), infant son John (1978), brother Tom Leadley (Doreen), brother Ted Leadley (Alice) and brother-in-law Bill Chambers. Dad will be missed by many nieces and nephews.
Dad was born to Jean (Wheeler) and Earl Leadley on June 29, 1936 and was the youngest of four children. Growing up in the Effingham area, he enjoyed fishing and hunting with his good friend Ardell Beckett. His love for the outdoors continued with vegetable gardening at his home on Quaker Road as well as seasonal camping in the Peterborough area.
Dad worked at the Atlas Steel Company in Welland from 1955 until his retirement in 2001. After retiring he filled his new found time with coin collecting, stamp collecting, and enjoyed lots of time with mom at their trailer home on Pigeon Lake.
Many thanks to the caregivers who helped our family during the past year, Corissa, Michelle, Teri-Lynn and Eleanor. Your love and concern for our dad is so deeply appreciated! We would also like to thank Dr. Janzen, the staff at Plymouth Cordage, the staff at Royal Rose and those caregivers from Mind Ourselves and Right At Home.
A family service is being held on Saturday, May 15 with interment at Lane's Cemetery.
Memorial donations would be appreciated by family to the Church of Christ in Fenwick (765 Welland Rd. L0S 1C0).