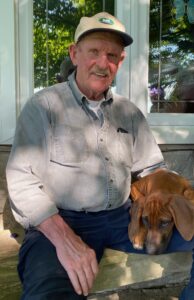 It is with great sadness that our family announces the passing of John Lochlin Daboll on November 28, 2021.
John was in his 85th year, living on his family farm dating back to the late 1700's in Pelham Township. Throughout his life John was a hardworking farmer while being employed at General Motors. He was incredibly wise and gave true meaning to "if dad can't fix it nobody can". John was known as an amazing story teller of town history and took pride in saying "Pelham was as close to heaven as you can get. " Above all he considered his family and the love we have for each other as his biggest achievement and joy. John is survived by his wife Barbara Anne Daboll (nee Hicks), his children: J. Leigh Daboll, Wade Lochlin Daboll, Jodi Ruth Krah (nee Daboll), their spouses: Briar Campbell (J.L. Daboll ), Diana Giles (W. Daboll) and Winston Krah (J. Krah), his grandchildren: Jennifer Krah (sp. Matt Mayster), Justin Daboll (sp. Jacquelyn) Erik Krah, Jacquelin Daboll (sp. Kevin), Caitlin Candlish (nee Daboll, sp. Dennis), W. Alex Daboll and Jonathon Daboll (Sp. Lisa), his great grandchildren: Capreece, Sterling, Taylor, Grace, Ainsley, Locklin, Caleb, Isla and Lucas and step great grandchildren: Ethan, Dylan, Carley and Audrey.
Celebration of life will be held for family and friends at Pelham Friends Church on Monday December 6, 2021 at 11:00. Covid protocols apply. Address: 940 Haist St, Fonthill.
For those wishing to attend via the live streaming service, please use the following link: https://pelhamfriends.online.church/
The family asks that donations be made to the Canadian Pulmonary Fibrosis Foundation.
Or The Canadian Lung Association