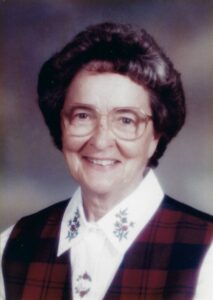 It's not easy to describe our Mother, Grandmother, and Great Grandmother in a few words,
Yet it's easy to see the legacy she has left behind.
Janet Metler passed away peacefully at home with family by her side on Saturday April 2, 2022.
Janet went on her own terms in her 91st year to join her beloved late husband Bob (Nov 2011)
to square dance their heavenly nights away.
Janet was also predeceased by her parents, Lanse and Beth Avery, as well as brothers Russell
and David.
Her strength and presence will be missed by her sister, Helen Frackelton of Orillia, Ontario.
Janet is survived by her nine children, Brian Hudson, Rod Hudson (Jennifer), Bruce Metler,
Kathy MacKenzie (Peter), Andrew Metler (Peggy), Brenda Dawson (John Witney), Alice
Boisvert, Margaret Metler (Robin), John Metler (Brenda). Along with her 19 Grandchildren and
10 Great Grandchildren and many nieces & nephews.
Janet lived a full and vibrant life with an abundance of love for her family, friends, travel, hard
work and adventure.
Mom always made her opinion known and if anyone didn't like it "duck". We will all
tremendously miss her tenacity, quick wit and laughs.
She and Bob were married for 56 years, travelled the world together and square danced their
way across the US and Canada in her handmade dance outfits. She was an accomplished
seamstress making everything from curtains for the cottage to wedding dresses for her
daughters. Janet drove school bus for many years and in her spare time worked the 40+ acre
fruit farm with Bob and their family. When the work was caught up she and her sister in-law
Joan raced their snowmobiles all around the neighbourhood. In the warmer weather she and
Bob would party with friends, and loved spending time at their cottage in Port Ryerse.
The family would like to sincerely thank the PSW's of "Stay at Home" and palliative care team
RN's Colleen and Jocelyn. Also, to the St. Catharines Hospital 3A section; Thank you.
Janet will be resting at home on the farm Tuesday and Wednesday with family and close friends
attending. Private interment Thursday morning at the North Pelham Cemetery.
A memorial service will be held in the afternoon at 12:30 at First Presbyterian Church, North
Pelham. Masks required.
In lieu of flowers, the family requests donations to be made to the First Presbyterian Church, North Pelham.