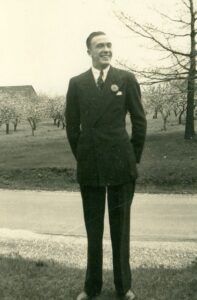 Howard C. Daw, in his 101st year, passed away at Welland General Hospital on Friday July 9, 2021.
Howard, a lifelong resident of Fenwick, was born in Thornloe, Ontario on Jan. 22, 1921. The Daw family relocated to Fenwick after the Great Fire of 1922 swept through the area.
Howard was well known in the local community, running several businesses in plumbing, heating and construction, before building Westbrook Golf Club (now Waterpark) and eventually Steeplechase Par 3 in Fenwick. He and his wife, Helen (Swick) retired on the
Steeplechase property before her death in 1979.
Howard eventually remarried and he and his wife, Barbara (Barrett), lived on their beloved property on Balfour St. for many years.
He is survived by wife Barbara, son Jeff Daw (Dorine) and daughter Jill Daw, stepchildren, Darlene Proveau (Terry), Carol Glanfield (Jeff) and Paul Barrett (Liz). Howard is also survived by his brother Jim (Ruth) and sister-in-law Bev Caldwell.
He was predeceased by his parents, David and Mae, and his siblings, Ronnie, Isobel Brown (George), Carm (Violet), Betty Tunnacliffe (Lloyd) and Lawrence (Irene).
Also surviving are grandchildren Bronwyn Drew (David), Adam Hammond (Marta), Chris Daw (Sheena), Stephanie Stokes (James) and 8 great-grandchildren.
Step-grandchildren include: Joel Glanfield (Heidi), Matthew Glanfield (Holly), Aaron Glanfield (Rachelle), Robert Glanfield (Kira), Mark Proveau (Krysanne), Lisa Proveau (Dakota), Lily Barrett and Rose Barrett (James)
A private family memorial service will be held at a later date.