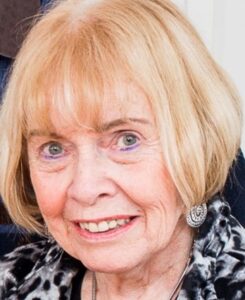 Elizabeth Anne (Bette) Wiley passed away peacefully in her 88th year, on Monday, July 4, 2022.   Elizabeth was born in 1935 in Toronto. She moved to St. Catharines when her parents began farming in the area west of the city. She was a proud wife, mother, family farm partner, dedicated volunteer  and well-known member of the Rockway community.
Elizabeth will be greatly missed by her sons David (Mary), Greg, and Jamie (Sharon); and her grandchildren, Philip, Sarah and Rachel Wiley. She was predeceased by her husband of 64 years, Donald Victor Wiley, in December, 2020.
Elizabeth is survived by her sister-in-law Myrna Watson of Orillia, and brothers-in-law Warren (Catherine) and Bill (Barb) Wiley. She was predeceased by her brother Stan Walpole (Margaret); brother Walter Watson and sisters Marg (William) Robertson and Mary (Mel) Bulmer; as well as brothers-in-law John (Ruth), Keith (Helen) and Clair (June) Wiley.
Elizabeth was one of four children of Harry Watson and Sarah McGarvey. Sarah passed away from childbirth complications, and Elizabeth was lovingly adopted by her paternal aunt, Emily (Watson) Walpole and husband Arthur Walpole. Elizabeth married Donald Wiley November 3, 1956 in Vineland.  She worked for many years in the family grape farming business, and especially enjoyed greeting customers at the Wiley Brothers Farms retail store.
Elizabeth volunteered for the Canadian Cancer Society and many of her sons' school events over the years. She loved seeing her boys play sports, driving 'mom's taxi' to many practices, games and rowing regattas. She was an avid gardener, made great preserves, loved her pet cats, and was a big fan of the Toronto Blue Jays and Raptors.
Cremation has taken place, and a private family interment will follow at Rockway Cemetery. A celebration of life will take place at a later date. Please visit www.lampmanfuneralhome.com to leave an online condolence.  Donations in Elizabeth's memory may be made to the Niagara Fund of the Niagara Community Foundation, online, at: https://niagaracommunityfoundation.org/niagarafund/  ; or by calling 905-684-8688, extension 24.