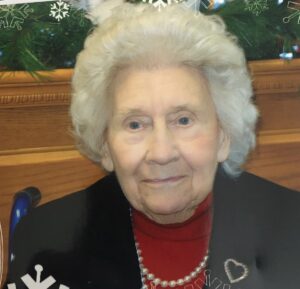 With great sadness we announce the passing away of Eleanor Fisher on March 8, 2021, at the age of 98. She was predeceased by her husband Orlin Fisher, son Jerry Fisher, daughter Violet Fisher and son in law Arthur Charbonneau. Eleanor is survived by dear friend Jim Edsall, daughter Shirley Charbonneau, son Larry Fisher and wife Dana. Eleanor will be missed by Grandchildren, Daniel Charbonneau, Kim & Tyler Shouldice, Michael & Dominique Charbonneau, Shelley Fisher & Bill Cowell, Wendy Mercier & Ron Lalande, Tara & Lenny Wiley, Marnie & David Clyne, Eva & Martin Bergeron. Great Grandchildren, Nathan Panadabko, Ashley, Sandra & William Cowell, Kassandra Gagne, Alexandria Mercier, Haley & Lenny Jr. Wiley, Rhaya, Bailey & James Clyne.
Eleanor loved life, was involved in Fenwick United Church, Pelham Seniors, Pelham Cares, organized Christmas Baskets, Butler Rangers U.E., Rebekah Lodges, sang with the Velvetones.
Eleanor will be sadly missed.
The family thanks the nurses and staff at the Extended Care Unit in Welland for their exceptional care and compassion given to Mom. Donations to Fenwick United Church or ECU Resident Council c/o Niagara Health Foundation would be appreciated by the family.
Visitation will be held on Friday, March 12th, 2021 at Lampman Funeral Home, 724 Canboro Rd, Fenwick from 1-5:15pm. Please call the funeral home at 905-892-4701 to make an appointment.