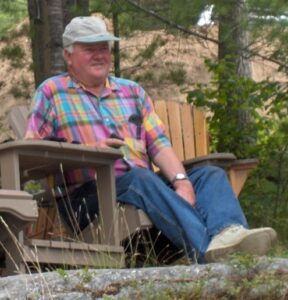 Donald Victor Wiley passed away suddenly at his home, in his 86th year, on Sunday, December 6, 2020. Don was born January 20, 1935 in the rural area of west St. Catharines.  He was a proud farmer and well-known member of the Rockway community.
Don will be greatly missed by his beloved wife of 64 years Bette (Walpole); his sons David (Mary), Greg, and Jamie (Sharon); and his grandchildren, Philip, Sarah and Rachel Wiley.
Don was one of six sons of George and Elsie Wiley (Davis). He was predeceased by his brothers John (Ruth), Keith (Helen) and Clair (June). He is survived by his brothers Warren (Catherine) and Bill (Barb).
Don attended Mountview Public School and St. Catharines Collegiate. He completed a year at General Motors Institute in Flint, Michigan (now Kettering University), before returning home to farm in partnership with his brothers.
Don always supported innovative changes in the farming business and believed in making improvements for the future. In his 86th year, he still worked actively on the farm, as time permitted.
Don took an interest in community and fellowship, serving with various Masonic lodges, the West St. Catharines Businessmen's Association, and the Bertie and Clinton Mutual (BCM) Insurance Board of Directors. He was an enthusiastic baseball fan and enjoyed a good game of euchre or cribbage.
Cremation has taken place, and a private family interment will follow at Rockway Cemetery. A Celebration of Life will take place at a later date.
Funeral arrangements have been made with Lampman Funeral Home in Fenwick. Please visit www.lampmanfuneralhome.com to leave an online condolence.
Donations in Don's memory may be made to the Niagara Fund of the Niagara Community Foundation, by going online, at: https://niagaracommunityfoundation.org/donors/donate-now; or by calling 905-684-8688, extension 24.