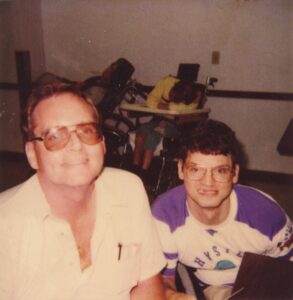 Oct 30, 1943 – Aug. 15, 2022
Passed away peacefully at the Welland General Hospital Site with his brother Rick by his side.
Carl is survived by his two brothers Erle in St. Catharines and J. Richard (Susan) in Thorold. Predeceased by his father, Lyle Robert 1993, his mother, Sarah Hazel 1988 and his brother, Keith 2012.
Carl was born in North Pelham Ontario. Unfortunately, he suffered from Cerebral Palsy all of his life. On the family doctor's advice, Carl was sent to live in a group home in the Barrie area when he was around 7 years old. His name was never mentioned again to anyone, and Mom and Dad did not visit him.
After Mom's passing and Dad's decline papers were discovered that mentioned Carl. Rick contacted the agency and arranged to visit him for the first time in 1988. Arrangements were then made for Carl to move to the Welland Pelham Community Living with the help of then MP Peter Kormos.
Carl was a gentle giant. He loved life. Even though he was unable to speak, he always let people know what he wanted. He was loved by all the workers at the group home.
A huge thank you to the staff at his group home, Welland General Emergency staff for the care of Carl during his last few weeks of life.
According to Carl's wishes, cremation has taken place. A graveside service is to be held on Thursday September 1st at 10:00 AM. The location of his internment is Oaklawn Cemetery, Jordon Station, ON.
Please in lieu of flowers, please make a donation in Carl's name to the Ontario Federation for Cerebral Palsy.