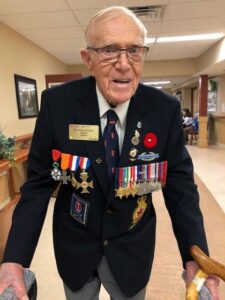 Born in 1924, Jim went on to spend most of his life in Welland, where he was born. Raised by immigrant parents, William and Charlotte, Jim shared his early life with his older sister, Beatrice.   When war broke out, Jim joined the army when only 18.  He went overseas to defend his country by joining the First Special Service Force.  Jim (Red) proudly served with " The Devil's Brigade" before it was disbanded in 1944.  He completed his war service with the 48th Highlanders in the Liberation of Holland. Shortly after returning home, Jim met Margaret, his one great love, with whom he would create memories for the next 75 years. Daughter Sherry and son Rex would be part of those memories as would their spouses Jorg and Jacqueline.  His proudest moments would be the arrival of his beloved grandsons Ivor and John.  Adventures at the family cottage would create many fond memories with a myriad of nieces and nephews as well as numerous sisters and brothers-in-law. Jim will be remembered for his devotion to country, his commitment to family, his dedication to youth education with the Canadian Legion, and his ready sense of humour.
 The family would like to acknowledge the caring and support of all Lookout staff especially those in the Care Centre. Their kindness and compassion has been without measure. Staff from Rose Hill Lane also played an important role in seeing to Jim's comfort.
 In lieu of flowers, the family invites those wishing to make a donation do so to the Royal Canadian Legion Talbot Trail Branch 613 Fonthill, Education Division.
 A service of Celebration of Life will be held Friday 23 September 2022 at 11:00 a.m. at the Pelham Community Church, 461 Canboro Rd, Fenwick followed by a reception generously hosted by the Fonthill Legion 130, 141 Hwy 20 E, Fonthill.