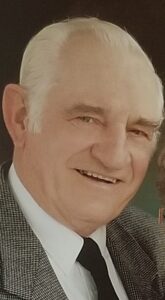 It is with great sadness that we announce the passing of FRANK JOSEPH DYCK, 23 Jun 1929-24 Apr 2022 of Wainfleet and St. Catharines. Born in Borden, Saskatchewan. Husband of Lorna (Jacobs) married for 68 years.
Proud of his sons Nelson and Mitchell (Wendy). Teaching them the ways of the farm. He loved to introduce his daughters Cheryl (Bryan) and Terri-Ann (Rob) as his daughters from his first marriage. Spoiler alert…he was only married once.
Predeceased by his parents Frank and Maria from Ukraine. Predeceased by siblings Peter,  Paul, and Mary ( I feel a song coming on…) also Victor, Herman, Henry, Rudy, Margaret and Alvin. Survived by John and Ernie.
Of all the titles bestowed on him…son, brother, husband, father, farmer, he always maintained the greatest treasures of his life called him Papa. Brandon (Nickie with Piper and Axel), Barrett (Elise with Deekan), Blair (Caitlin), Krystyna, Kimberlin, Cassidy, Brittany, Mackenzie (Jolene with Callie) and Nicholas.
Brother to many at The Sheet Metal Workers of Canada (and USA) and long standing with The United Church of Canada, Forks Rd site.
He loved music, often making up songs to put his grandkids to sleep and attending choir events. In his later years joining the Forks Rd Church Choir himself. Of course he couldn't read music, so he would just 'harmonize.'
He attended numerous football and hockey games, track meets, dance recitals and theater.
He had an early passion for politics, even running himself Federally and Provincially for the NDP. His kids joined him in making lawn signs, handing out pamphlets door-to-door, or just talking up the candidates.
If he didn't agree with something, he phoned  "someone ", much to the chagrin of his family.
"I'll  leave you with this: Please don't cry because i am gone, instead be happy that I was here."
Please join the family for Frank's Memorial Service on Saturday May 7, 2022 at 12 noon, Lampman Funeral Home, 724 Canboro Rd, Pelham (Fenwick), A reception will follow at Old Pelham Town Hall, 491 Canboro  Rd, Pelham (Fenwick).